10 Asian-Owned Sustainable Fashion and Wellness Brands
  image from ValaniDisclosure: Some of the links below are affiliate links, we earn a small commission if you click through and make a purchase. We only add brands & products we truly believe in. Asian-Owned Sustainable BrandsWe can't talk about being sustainable if our sustainability is not intersectional, and at Sustainably Chic we really care about supporting communities of color. So today, we want to share with you some of our favorite Asian-owned sustainable fashion and wellness brands (in the US and Canada). We're also all about women empowerment, and all these brands are owned and run by women — yay, women power! These boss women all have inspiring stories to tell, and many of them draw on their own heritage and experiences in the work they do. It was really hard (because there were so many to choose from), but we picked eleven of our favorites to share with you today. Show them some love and support — we promise you won't be disappointed!What makes these brands sustainable?You can be confident that all the brands in this list are genuinely sustainable (trust us, we've done the research for you — no greenwashers here!). Here are some of the questions we asked and factors we considered:Fabrics/ingredients they use: Where are they sourced from, are they certified by national or international organizations (GOTS, Oeko-Tex, USDA)?Are they plant-based and cruelty-free?What materials do they use for packaging: Is it biodegradable or recyclable?Are their products designed to last? No fast fashion, please!Do they pay their makers a fair wage, and have ethical worker conditions?Do they credit and give back to the communities where their products have originated from?We've only chosen brands whose values and missions we truly align with. And, of course, we're in love with the products ;)Now, our top picks for sustainable Asian-owned fashion & wellness brands: 1) ValaniFor: DressesFounder: Vanni Leung Looking for a new outfit for your next brunch party? Valani's gorgeous collection of flowy tops and dresses is fun and flirty, with classic designs that can be dressed up or down for any occasion. All the pieces are made from plant-based and sustainable materials like hemp, Tencel, and banana fiber and are dyed using non-toxic dyes. To reduce waste, they use leftover fabric scraps to make these beautiful Tencel scrunchies (USD 14) and as stuffings for toys and pillows. Their collection is slightly on the pricier side (their dresses range from USD 298 to 348), but it's so worth it. Shop Valani 2) CocokindFor: SkincareFounder: Priscilla Tsai Sustainable skincare with Asian-inspired flavors, like matcha and turmeric, is what Cocokind is all about. Sea kale clay mask (USD 19), vitamin C serum with sea grape caviar (USD 20), or a sake body lotion (USD 19)? Um, YES, please! One of their all-time bestsellers is their daily SPF sunscreen (USD 25) — made with zinc oxide, microalgae, and blue phytoplankton; it's super gentle, mineral-based, and reef-safe leaves your skin with a dewy (but not sticky!) finish. Also, their (mostly plastic-free) packaging is so, so beautiful. Shop Cocokind 3) KayuFor: Bags Founder: Jamie Lim Straw bags are so in right now, and Kayu has the most beautiful ones. Their signature straw tote (USD 150) is a must-have in your wardrobe — they're so cute, and the timeless designs will never go out of style. You can also accessorize your bag with some adorable pom poms (USD 19.50) or a removable liner (USD 34) to make it uniquely yours. The bags are handcrafted by women cooperatives in the Philippines, Indonesia, and Malaysia, using indigenous techniques. Each bag is woven from seagrass straw, a biodegradable, natural weed harvested by hand. Shop Kayu
Asian-Owned Sustainable Brands
We can't talk about being sustainable if our sustainability is not intersectional, and at Sustainably Chic we really care about supporting communities of color. So today, we want to share with you some of our favorite Asian-owned sustainable fashion and wellness brands (in the US and Canada). 
We're also all about women empowerment, and all these brands are owned and run by women — yay, women power! These boss women all have inspiring stories to tell, and many of them draw on their own heritage and experiences in the work they do. 
It was really hard (because there were so many to choose from), but we picked eleven of our favorites to share with you today. Show them some love and support — we promise you won't be disappointed!
What makes these brands sustainable?
You can be confident that all the brands in this list are genuinely sustainable (trust us, we've done the research for you — no greenwashers here!). Here are some of the questions we asked and factors we considered:
Fabrics/ingredients they use: Where are they sourced from, are they certified by national or international organizations (GOTS, Oeko-Tex, USDA)?

Are they plant-based and cruelty-free?

What materials do they use for packaging: Is it biodegradable or recyclable?

Are their products designed to last? No fast fashion, please!

Do they pay their makers a fair wage, and have ethical worker conditions?

Do they credit and give back to the communities where their products have originated from?
We've only chosen brands whose values and missions we truly align with. And, of course, we're in love with the products ;)
Now, our top picks for sustainable Asian-owned fashion & wellness brands:
For: Dresses
Founder: Vanni Leung 
Looking for a new outfit for your next brunch party? Valani's gorgeous collection of flowy tops and dresses is fun and flirty, with classic designs that can be dressed up or down for any occasion. All the pieces are made from plant-based and sustainable materials like hemp, Tencel, and banana fiber and are dyed using non-toxic dyes. To reduce waste, they use leftover fabric scraps to make these beautiful Tencel scrunchies (USD 14) and as stuffings for toys and pillows. Their collection is slightly on the pricier side (their dresses range from USD 298 to 348), but it's so worth it.
Shop Valani
---
For: Skincare
Founder: Priscilla Tsai 
Sustainable skincare with Asian-inspired flavors, like matcha and turmeric, is what Cocokind is all about. Sea kale clay mask (USD 19), vitamin C serum with sea grape caviar (USD 20), or a sake body lotion (USD 19)? Um, YES, please! One of their all-time bestsellers is their daily SPF sunscreen (USD 25) — made with zinc oxide, microalgae, and blue phytoplankton; it's super gentle, mineral-based, and reef-safe leaves your skin with a dewy (but not sticky!) finish. Also, their (mostly plastic-free) packaging is so, so beautiful.
Shop Cocokind
---
For: Bags 
Founder: Jamie Lim 
Straw bags are so in right now, and Kayu has the most beautiful ones. Their signature straw tote (USD 150) is a must-have in your wardrobe — they're so cute, and the timeless designs will never go out of style. You can also accessorize your bag with some adorable pom poms (USD 19.50) or a removable liner (USD 34) to make it uniquely yours. The bags are handcrafted by women cooperatives in the Philippines, Indonesia, and Malaysia, using indigenous techniques. Each bag is woven from seagrass straw, a biodegradable, natural weed harvested by hand.
Shop Kayu
---
For: Tees and hoodies
Founder: Wenjia Wang 
Check out Orejas for some versatile everyday essentials. Their tees and hoodies are practical, comfy, and super soft and are made with GOTS-certified organic cotton and hemp. Even the buttons they use are made with all-natural and biodegradable materials like corozo nuts and seashells. We love their classic fitted tee (USD 48), which looks so good tucked into your favorite pair of jeans (check out our guide to our favorite sustainable denim brands here).
Shop Orejas
---
For: Swimwear 
Founder: Courtney Chew 
If you're on the lookout for a classic bikini or one-piece for your next beach vacation, definitely check out OCIN. They make sustainable swimwear in bold, vibrant colors, designed to be worn both in and out of the water. They use regenerated polyester for their collection, made from 100% recycled plastic bottles or fishing nets recovered from the oceans. The fabrics they use are Standard 100 certified by Oeko-Tex, which means they're free from harmful chemicals, and have UPF 50+ protection from the sun. Bonus: They have a recycling program — send them your old swimsuits, and they'll make sure they're recycled properly!
Shop OCIN
---
For: Skincare
Founder: Joy Yap 
Wyld is an all-natural and plant-based personal care brand that is gentle on your skin and the planet. They make konjac sponges, exfoliating sponges for your face and body made from the konjac plant, known for its medicinal properties. The sponges are biodegradable and will gently exfoliate your skin with or without a cleanser. If you have sensitive skin and struggle to find an exfoliator that works for you, check out their french pink clay konjac sponge (USD 13.52). The clay gently removes dirt, oil, and makeup without stripping your skin of its natural oils and contains natural calming properties that soothe and nourish your skin.
Shop Wyld
---
For: Jewelry 
Founder: Jessica Phan 
Hathorway makes gorgeous (and affordable) sustainable jewelry from ethically sourced, upcycled buffalo horns — a material that has been discarded from deadstock and the food industry in Vietnam. Their designs are bold and versatile — you can pair their exquisite geometric statement earrings (USD 56) with a flowy dress (like this one from Valani) for a playful summer look or with a silky blouse for a more formal, chic look. For more sustainable jewelry brands that we love, check out our guide here.
Shop Hathorway
---
For: Makeup remover pads
Founder: Lena Chao 
Clean Circle makes one product, but it makes it well. If you're looking to switch to reusable makeup remover pads, look no further. Their bamboo pads are made with Certified OEKO-Tex bamboo fabric and are super soft and gentle on your skin. They're also very easy to clean — just place them inside their GOTS-Certified organic cotton pouch, and throw them in the wash! If you get their reusable bamboo charcoal makeup remover pads (USD 24 for a pack of 5 pads), you don't even need to use makeup remover — one pad will remove your makeup with just water.
Shop Clean Circle
---
For: Sneakers 
Founders: Julie and Connie Kuo 
Chunky sneakers are all the rage right now, and Avre has the comfiest ones in the cutest colors (just look at these ones in blush and white, USD 145). Their signature material is made from repurposed plastic bottles (or PET: polyethylene terephthalate) — so not only does each pair of sneakers keep 8-10 bottles from entering the oceans, but the material also has moisture-wicking properties and enhanced flexibility. In addition, their BLOOM insoles made from algae foam are super cushion-ey and supportive and also remove harmful algae from waterways, generating clean water and reversing the effects of water pollution. For other sustainable sneakers, check out our guide here.
Shop Avre
---
For: Skin, body, and period care
Founders: Taran and Bunny Ghatrora
Blume is a skin, body, and period care brand that's all about self-care and acceptance. They're destigmatizing periods, acne, puberty, and sex ed, and their focus is on healthy skin, not perfect skin. They make products that are good for you and for the environment. Their products range from organic cotton pads (USD 8 for a box of 10) and tampons (USD 10 for a box of 16) to a plant-based period cramp oil made from essential oils like peppermint and bergamot (USD 18) to an all-natural, paraben-free acne oil (USD 28).
Shop Blume
---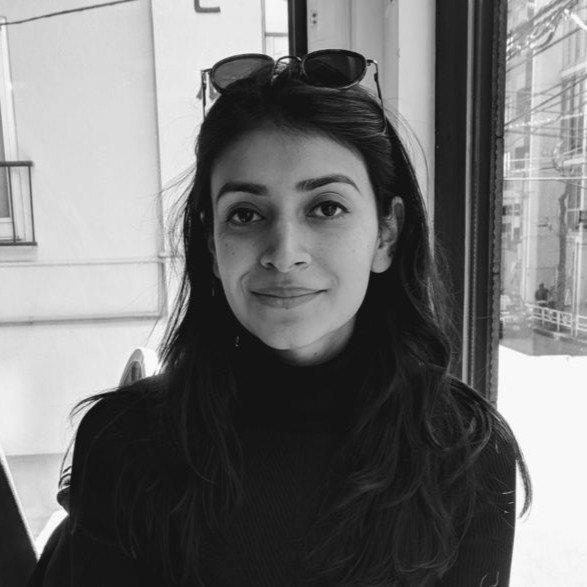 About the Author:
Jyotika is a writer based in New Delhi. She writes about sustainable living and eco-friendly brands, covering fashion, food, travel, and wellness. Previously, she was the fashion manager at her family's bespoke fashion business, where in addition to her other responsibilities she worked on improving textile sourcing from local artisans to encourage grassroots production, as well as conducting sustainability workshops with employees regarding the eco-friendly disposal of fashion materials.
---
MAKE SURE TO PIN THE PHOTO BELOW TO SAVE THIS POST FOR LATER!
---
WANT MORE SUSTAINABLE BRANDS? VISIT OUR BRAND DIRECTORY!
Our Brand Directory is home to hundreds of sustainable brands, from makeup to cleaning supplies, from underwear to shoes. We have broken everything down by category for easy shopping, along with discount codes unique to Sustainably Chic viewers.
Shop the Sustainable Brand Directory
---
RELATED READING YOU MAY ALSO ENJOY:
---