10 Dental Brands Making Eco-Friendly Toothbrushes, Toothpaste, Mouthwash & Floss
image by Mable With around 2 billion plastic toothbrushes being thrown out every year in the US alone, switching to a sustainable one is more important than ever. Not only are your toothbrushes important, but your toothpaste and floss, as well. Even though a lot of conventional toothpaste is dental approved, most of it has been really harsh on my mouth, and I've wanted to find an alternative where I wasn't constantly purchasing plastic tubes with ingredients I knew nothing about. I switched to natural tablet toothpaste this past year, and LOVE them. I still always have great dental check ups after using my bamboo toothbrush and tablet toothpaste, and I'm cutting back on my plastic waste! It's a win-win. The Other StrawBamboo ToothbrushThe Other Straw reinvented the everyday bamboo toothbrush to make the design more sustainable, portable, and longer-lasting (not to mention, it looks pretty sleek, too). Their toothbrush comes with a detachable brush head so you can reduce waste by only replacing the head when necessary. When it is time to replace the bristles, just swap the head for a new one. First time I've seen this on a bamboo brush!! Plus, their bamboo is FSC certified and all of their orders are zero waste and carbon-neutral. EcoRootsToothpastes, Toothbrushes, FlossEverything you need for a clean mouth can be found here! EcoRoots is all about lowering your waste at home, and their line of dental hygiene products make that very easy. Besides their biodegradable bamboo toothbrushes, they have zero-waste vegan floss made from organic and sustainable bamboo fiber with activated charcoal - and it's compostable! They also always ship plastic-free with compostable, recyclable materials. Plus, they give 1% to Ocean Conservancy, to preserve and protect our blue planet. GeorganicsMouthwash, Toothpowder, Toothpaste, Oil Pulling, FlossI've been a fan of tablet toothpaste for a while, now, and highly suggest you trying them out for yourself. It seems odd to brush your teeth with a single tablet - or use it as a mouthwash - but it actually works really well. You still get the fresh feeling after each brush! This brand has a lot of different natural dental products - and oil pulling has been something I've been wanting to try! *use code Natalie10 for 10% off HelloToothpaste, Toothbrushes, Mouthwaste, Charcoal Whitening, KidsThe name itself is quite inviting, but the reviews get me even more excited about trying this product. I've heard a lot about activated charcoal for whitening over the past year, and hope to try it out for myself soon. I love that this brand also has a line for kids (toddlers and babies, too) from mouthwash to toothpaste, and with flavors like Wild Strawberry and Natural Apple, I'm sure it would be easy to get any kid to brush their teeth before bed. IsshahToothbrushes, Floss Picks, Tongue Scrapper, Interdental BrushesSometimes a handy to-go flosser or interdental brush is much needed. Unfortunately, most of those items you find are made from plastic, and for it being a single-use item it's nice to have better options available. Isshah has made that 'better' option with their biodegradable bamboo handles! Also, if you haven't tried a tongue scrapper, yet, they have those, as well. Tongue cleaning is important, too, believe it or not! :P KeekoWhitening, Oil Pulling, Floss, Tongue Cleaner, Toothbrushes, ToothpastesThis brand is known for their oil pulling, which is an ancient Ayurvedic treatment that consists of swishing oil around the mouth to naturally remove toxins and whiten teeth. Instead of pulling for those crest white stripes, I suggest trying this first! They also have a really cool whitening pen if that is more your style. Even their toothbrushes are natural, and made from corn starch (so they will biodegrade). Plus, the bristles are charcoal infused. MableBamboo ToothbrushesThis was actually one of the first bamboo toothbrush brands I ever used. I love their design, and how they can sit up on their own. Plus, the colors are fun and kids like them, too! Mable even has a great subscription service so you don't need any reminders to change out your toothbrush every month! Also, for every toothbrush you buy, they give one to a child here in the U.S. OLASMouthwash & Bamboo ToothbrushesIf there is one mouthwash that looks rather refreshing, it would be this one by Olas! Thei
With around 2 billion plastic toothbrushes being thrown out every year in the US alone, switching to a sustainable one is more important than ever. Not only are your toothbrushes important, but your toothpaste and floss, as well. Even though a lot of conventional toothpaste is dental approved, most of it has been really harsh on my mouth, and I've wanted to find an alternative where I wasn't constantly purchasing plastic tubes with ingredients I knew nothing about. I switched to natural tablet toothpaste this past year, and LOVE them. I still always have great dental check ups after using my bamboo toothbrush and tablet toothpaste, and I'm cutting back on my plastic waste! It's a win-win.
Bamboo Toothbrush
The Other Straw reinvented the everyday bamboo toothbrush to make the design more sustainable, portable, and longer-lasting (not to mention, it looks pretty sleek, too). Their toothbrush comes with a detachable brush head so you can reduce waste by only replacing the head when necessary. When it is time to replace the bristles, just swap the head for a new one. First time I've seen this on a bamboo brush!! Plus, their bamboo is FSC certified and all of their orders are zero waste and carbon-neutral.
---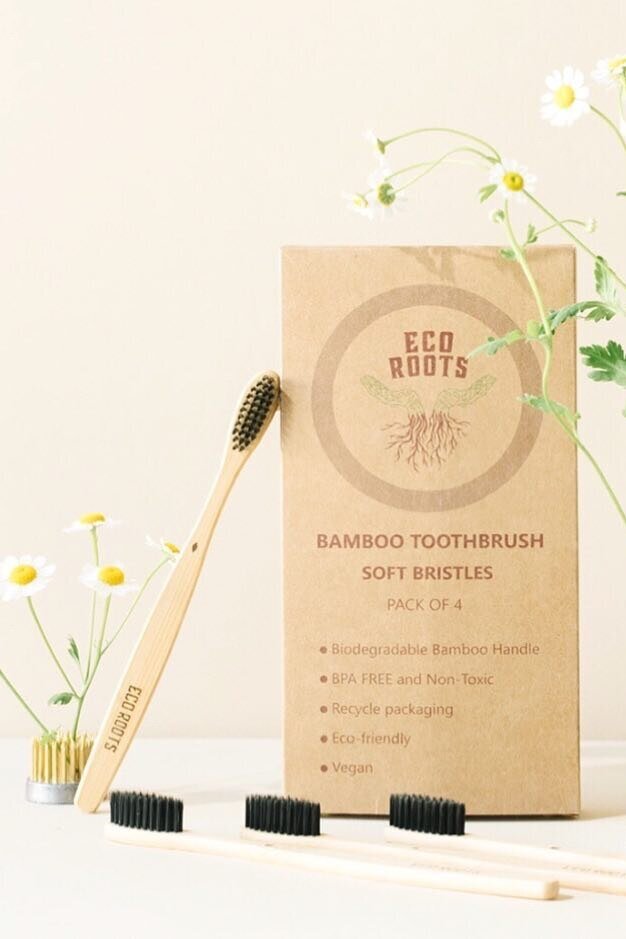 Toothpastes, Toothbrushes, Floss
Everything you need for a clean mouth can be found here! EcoRoots is all about lowering your waste at home, and their line of dental hygiene products make that very easy. Besides their biodegradable bamboo toothbrushes, they have zero-waste vegan floss made from organic and sustainable bamboo fiber with activated charcoal - and it's compostable! They also always ship plastic-free with compostable, recyclable materials. Plus, they give 1% to Ocean Conservancy, to preserve and protect our blue planet.
---
Mouthwash, Toothpowder, Toothpaste, Oil Pulling, Floss
I've been a fan of tablet toothpaste for a while, now, and highly suggest you trying them out for yourself. It seems odd to brush your teeth with a single tablet - or use it as a mouthwash - but it actually works really well. You still get the fresh feeling after each brush! This brand has a lot of different natural dental products - and oil pulling has been something I've been wanting to try!
*use code Natalie10 for 10% off
---
Toothpaste, Toothbrushes, Mouthwaste, Charcoal Whitening, Kids
The name itself is quite inviting, but the reviews get me even more excited about trying this product. I've heard a lot about activated charcoal for whitening over the past year, and hope to try it out for myself soon. I love that this brand also has a line for kids (toddlers and babies, too) from mouthwash to toothpaste, and with flavors like Wild Strawberry and Natural Apple, I'm sure it would be easy to get any kid to brush their teeth before bed.
---
Toothbrushes, Floss Picks, Tongue Scrapper, Interdental Brushes
Sometimes a handy to-go flosser or interdental brush is much needed. Unfortunately, most of those items you find are made from plastic, and for it being a single-use item it's nice to have better options available. Isshah has made that 'better' option with their biodegradable bamboo handles! Also, if you haven't tried a tongue scrapper, yet, they have those, as well. Tongue cleaning is important, too, believe it or not! :P
---
Whitening, Oil Pulling, Floss, Tongue Cleaner, Toothbrushes, Toothpastes
This brand is known for their oil pulling, which is an ancient Ayurvedic treatment that consists of swishing oil around the mouth to naturally remove toxins and whiten teeth. Instead of pulling for those crest white stripes, I suggest trying this first! They also have a really cool whitening pen if that is more your style. Even their toothbrushes are natural, and made from corn starch (so they will biodegrade). Plus, the bristles are charcoal infused.
---
Bamboo Toothbrushes
This was actually one of the first bamboo toothbrush brands I ever used.
I love their design, and how they can sit up on their own. Plus, the colors are fun and kids like them, too!
Mable even has a great subscription service so you don't need any reminders to change out your toothbrush every month!
Also, for every toothbrush you buy, they give one to a child here in the U.S.
---
Mouthwash & Bamboo Toothbrushes
If there is one mouthwash that looks rather refreshing, it would be this one by Olas! Their mouthwash is inspired by the ocean's natural cleansing ability and boundless beauty.
It is free of chemicals and packed with healing properties for fresh breath and a healthy smile, and is made from a formula designed with marine bio active ingredients. The added essential oils help restore gums and teeth and promote optimal oral health.
---
Eco-Friendly Electric Toothbrush, Refillable Floss, Toothpaste, Kids Toothbrush
I'm actually going to order one of these toothbrushes next week. I've heard such great things, and, to be honest, I miss having an electric toothbrush. Bamboo is great, but to find an eco-alternative for electric is awesome. These aluminum based brushes provides you sonic vibrations with 2-minute timer, 30-second pulses, & multi-use cover, and are meant to last a lifetime. You can even get a solar battery charger!
---
Toothbrushes, Toothpastes, Flosses
This brand has a lot of great options when it comes to vegan flosses. 
Their toothbrushes have vegetable based nylon bristles with a curved bristle-bed, massaging the gums rather than aggravating them. Repurposed wood, paper, and even recycled dollar bills go into their ergonomic handles, which are designed to reduce pressure on teeth and gums for optimal oral health.
*use code Natalie10 for 10% off
This post is sponsored in part by EcoRoots & The Other Straw and contains affiliate links. As always, views are genuine and brands are aligned with our ethos. Thanks for supporting the brands who are working to make this industry a fairer and cleaner place!